Mayor's charity events
The Mayor's charity for 2018/2019 is:
Details of upcoming charity events will be listed here.
The Mayor, along with some supporters, is taking part in the Thames Sky Dive fundraiser for the Mayor's charity Refuge Richmond, who work with people in the borough who are experiencing or have experienced domestic violence or domestic abuse.
Please support #TeamLBRUT by donating to our JustGiving page!
Mayor's Eggs-ellent Easter Egg Hunt
Join the Mayor of Richmond for a fun Easter Egg Hunt around the beautiful York House Gardens. Each child will be given a fun gamecard which they must complete in order to win their prize!
Date: Sunday 14 April 2019
Time: 2pm, 2.30pm or 3pm
Location: York House Gardens, York House, Twickenham, TW1 3AA
Price: £3.50
Book tickets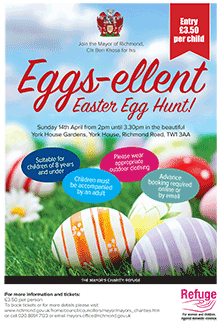 Join the Mayor of Richmond for his last fundraising event of his year! As well a delicious afternoon tea you will get a welcome drink on arrival, tour of York House and the gardens, performances from the Richmond Academy Of Dance and some wonderful raffle prizes!
Date: Friday 10 May
Time: 3.30 to 5pm
Location: York House, TW1 3AA
Price: £20 per person
Unfortunately we have had to cancel the Murder Mystery evening (Friday 5 April). Despite extensive marketing and publicity for the event, ticket sales were low and we needed a minimum number of people to attend to ensure that the event still raised vital funds for the Mayoral charity.
Our apologies to all those who purchased tickets and we will be contacting everyone to ensure that their ticket price is refunded. Hopefully all will be able to join us for Mayoral events in the future.
Make a donation
As well as attending a charity event, you can also donate to the Mayor's charities by:
Visiting the Mayor's Office in York House to make a donation in person
Posting a cheque to the Mayor's Office, made payable to 'The Mayor's Charities'
Texting LBRM01 followed by an amount to 70070 (for example, text 'LBRM01 £5' to donate £5), or
Visiting the Mayor's JustGiving page
Thank you. Any donation is gratefully received and will be passed directly to the Mayor's charities at the end of each municipal year.
Contact
The Mayor's Office
London Borough of Richmond upon Thames
York House
Richmond Road
Twickenham
TW1 3AA
Telephone: 020 8891 7123
Email: mayors.office@richmond.gov.uk